Kansas City Digital Marketing
Here are 6 reasons why your Kansas City business should use Facebook Advertising!  Kansas City digital marketing has been growing by leaps and bounds year over year.  We can see this clearing with the Google AdWords bids raising each year.  What used to cost $2.50 a click now is well over $14.00 a click.  If you have a 10% conversation rate that means for each customer you convert you paid $140 plus any management fees if you have outsourced it a specialist. 
That's an increase of $115.00 per conversion.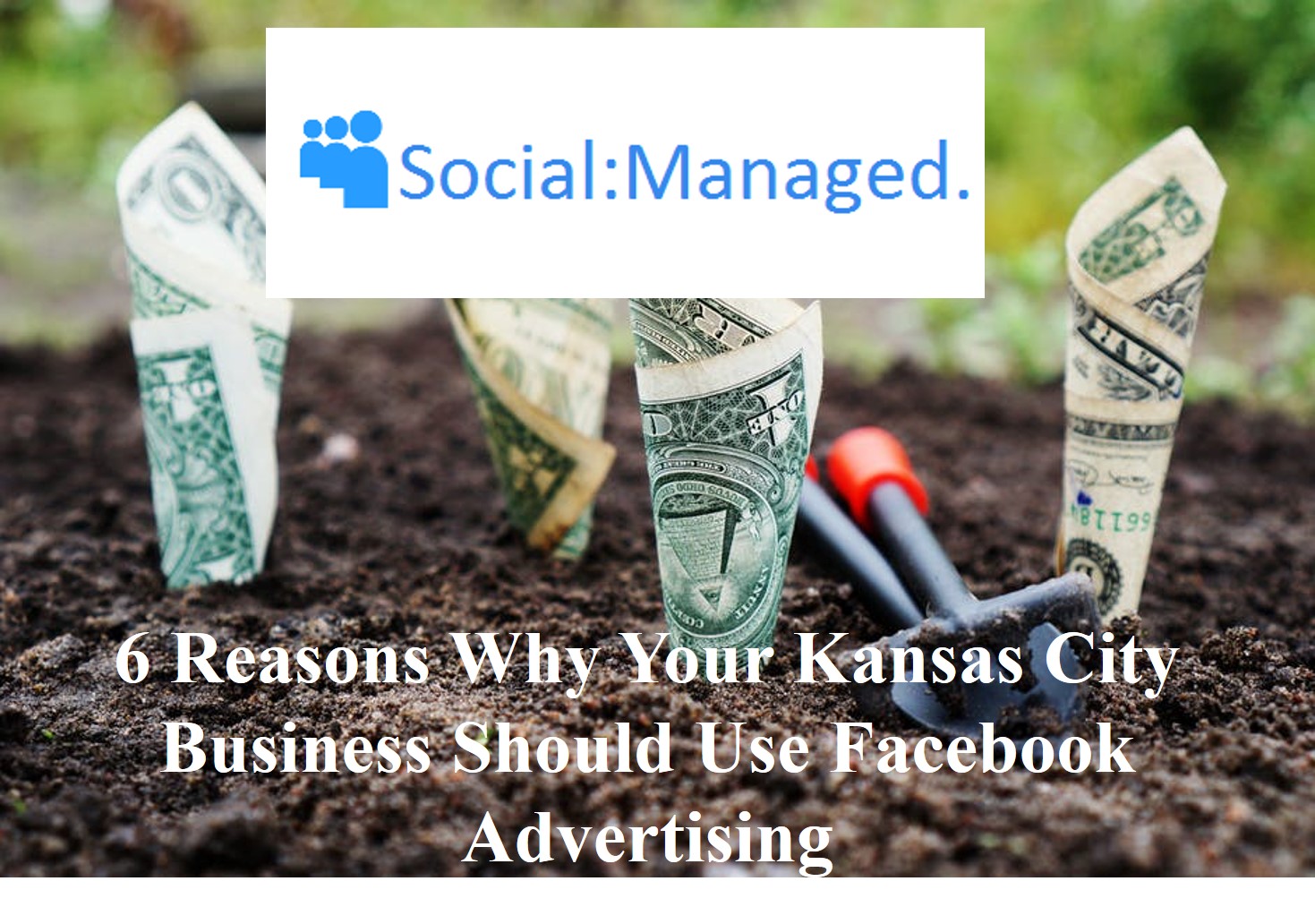 5 Reasons Why Kansas City Businesses Should Use Facebook Advertising
1. Kansas City Social Media Marketing Costs Are Still Low
The minimum spend on Facebook advertising is just $1 a day, but let's use $5 a day investment. Even with this small budget, you can reach thousands of people that meet specific targeting categories. With Google AdWords, your ad wouldn't yet be shown with a budget of $150/mo some too many people will outbid you.
Let's talk about the multiple bid types available; you can choose the most appropriate bidding structure for your campaign objectives.
Facebook Bid Types:
Cost per mille (CPM)
Increase exposure and brand awareness by bidding per thousand impressions, helping more people see your ad and potentially go on to engage with your brand.

Cost per click (CPC)
If you're more interested in getting users to actively click on your ad through to your page or site, you can choose to maximum bid per click, with CPC bidding.

Optimized cost per mille (oCPM)
This type of CPM bidding is when Facebook shows your ad to the people which they believe are most likely to take action on your ad.

Cost per action (CPA)
This bid type is best if you are looking for users to take a specific action when they see your ad, such as like your page.
This is where most people hang out their hopes of doing social media marketing themselves like this all sounds Greek to them.  This is also where the most mistakes are made when building a long term strategy. It's essential that you choose the correct approach for your advertising goals to maximize your campaign.
2. Difference Between AdWords and Facebook Ads
The most significant difference between AdWords and Facebook ads is that Facebook advertising is targeted to the users' demographic and interests, not what keywords they typed into a Google search. This difference makes all the difference in the world between these two digital strategies.  One is reactive while the other is proactive.
With Google AdWords, a user does a Google search for your service or product and the user is presented 12 organic results and 4-6 paid results.  At this point, your competition is the cream of the crop and it's a tossup on who the user will call as everyone is a good choice.  What is likely to happen is the 3 to 4 companies who spent the most on their website will get the phone call. We know consumers make quick decisions based on emotions so at this point you are in a beauty competition based on your website. If you are lucky enough to make the list of companies called it will likely turn into a price war between you and your competitors.
Don't get me wrong I'm not saying dump Google AdWords in fact I believe Google AdWords is the 2nd most effective way to advertise and gain business.  What I am saying is with social media advertising we could have gotten in front of your target prospect and removed the competition altogether.
3. The Target Audience Feature for Facebook Is Amazing
Let's look at the refinement available on Facebook when you build an ad using the advanced back-end tools.
Are you Business to Business then lets target users with interests in "business", "marketing" and "advertising". Let's narrow it down even more to "Small Business Owners". Let's only target those between 35-55 who are most likely to be in a position of authority and can make a purchasing decision or at least influence the decision.
Sell custom cutting boards online? Target online females whose interests include "shopping and fashion". Let's choose an age range of 18-55 and use the behavioral targeting to market to those who tend to shop online. Yes, Facebook has information on your digital activities and much more.
Own a wedding photography agency? Target "engaged" and have separate ads for your male and female demographics.
Oh, it gets better! I also want to target a geographical area or areas specifically!  Here is a great example.
Own a roofing company? Target "homeowner", "household income over $150,000", "Female", and "Age 28-40." Now that we have our persona let's now run our ad in the areas that a hail storm just hit.
Let's get dig into this a little bit.
So we just build an ad that will only be seen by people affected by hail damage and we have limited it to only those who own a house and based on income we are targeting larger roofs.  Impressed yet? Now unlike radio or billboard ads, your ad is seen can be seen on a person's cell phone.  We can make the assumption that the prospect is not doing anything else like driving to distract them.  Also, we already have the device they need to call us in their hand!  Are you kidding me could we make it any easier for them to call you?  They have a need, we have proactively provided them a solution on their Facebook feed and all they have to do is click one button to call.  Man, I love social media marketing!  It is so cool!
4. Your Target Audience Is On Facebook
Your target audience is on Facebook.  Unless your target prospect doesn't own a phone or have access to a computer, I will not accept that we can't build a campaign to help you target your audience. 79% of online adults use Facebook.  To put that differently 68% of all Americans use Facebook according to PewResearchCenter.
5. Measure Performance and ROI
Facebook allows you to track your advertising and can show you the results of each campaign.
Measure Performance and ROI:
The total number of times your ad was shown (Impressions, the number of different people who saw your ad (Reach) and the average number of times (Frequency)

The number of clicks or other actions people took, such as page likes, engagement, comments and shares.

Cost data including average Cost per Click (CPC), Cost per Like and Cost per Conversion based on your specific goals and tracking.
Make sure you spend some time analyzing your advertising performance and try out different ads and targeting to see what works best and gives you the biggest ROI.
6. Early Adoption
We are past the early adoption stage, but your not late to the party.  Facebook reports that 10% of small businesses who have an active business profile on Facebook are using the Facebook ads features.  We are still in the stage that it is affordable compared to Google PPC which has seen the average bid per click grow higher each year.  As powerful as Facebook's advertising platform is, it's surprising how many businesses are still not using it, or at least not correctly.  As a result, if your competitors are not advertising to your target market or if they are not doing it well you gain a fantastic advantage.
David Alexander
CEO of Social Managed a Kansas City social media marketing company.  Social Managed specializes in social media marketing, social media management, and social media advertising.
Resources:
http://www.niemanlab.org/2016/05/pew-report-44-percent-of-u-s-adults-get-news-on-facebook/
http://fortune.com/2016/05/04/small-businesses-facebook-ads/