Whether you hire a digital marketing company in Kansas City or attempt a strategy on your own, it is essential to integrate all aspects of a marketing strategy, including email marketing. In your marketing efforts, you explore many things. Like website ideas, social media methods, as well as what a Kansas City SEO company can do for your search engine rankings. However, many people forget the method of email marketing. Typically, this method is used to communicate with their audience about promotions, new information, upcoming events, and more that is relevant to the consumer. Let's talk about some of the things you can do to maximize your efforts in your email marketing strategy.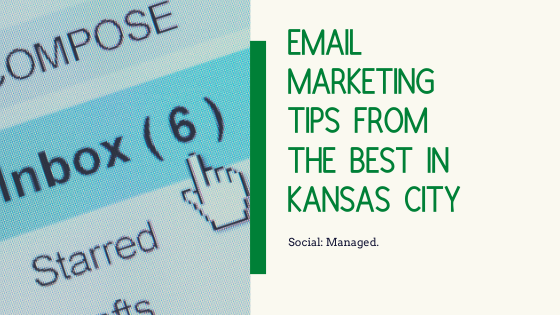 Don't Get Spammy
The most common reason you would lose your client list is for spamming their inbox with irrelevant content. You can limit the loss of viewers by keeping your information relevant, restrict the number of messages, and making the email itself more personal to the consumer. Any digital marketing company in Kansas City could tell you that your audience will ignore content that does not relate to them. It is clear; you would not open an email that does not seem to pertain to you or your connection to the business. What you can do is create relevant topic lines. You include a personal touch, that lets them know what the promotion is. Doing so can eliminate the chance of moving to spam or being unsubscribed to.
Make It Relevant
Lastly, your audience is always going to be searching for deals. The general rule of thumb is to keep your email 90% educational and 10% promotional. This helps your audience learn while still securing their search for a deal. The best website companies in Kansas City will tell you that media is key. Adding photos or media of any kind is crucial to keep your audience intrigued. You can use your own pictures. Or even look into hiring a graphic designer in Kansas City to create fun media and infographics.
Wherever you are in your marketing journey, consider consulting with a Kansas City SEO company about your email strategy and efforts. Call our team today to get your business started on a high converting email marketing plan today. The best digital marketing agency in Kansas City is ready to get you on the right track.