If you're like some people and have recently been on Facebook you may have received the following notification: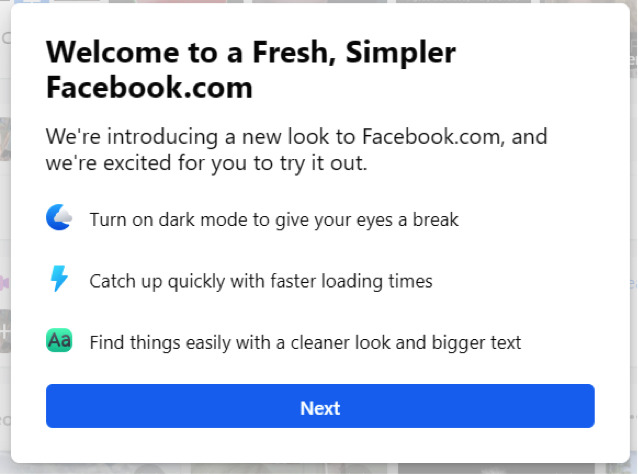 Facebook has recently made a big announcement about the launching of the "New Facebook," or FB5. Back at the F8 2019 conference, executives announced their plan to release a significant redesign of Facebook. This is Facebook's fifth major redesign since it was founded back in 2004 and features some dramatic changes, including dark mode. But don't freak out just yet. It's been a while since Facebook's last redesign, so it's about time we see a new look. To help you out through this change, we're going to explain how you can switch to this update and Facebook's reasoning for this specific design.
Features of the New Design
This "New Facebook" is considered the most dramatic of all their redesigns, which means there are many new features. Here's what's new:
Dark Mode
Hopping on the trend, Facebook will now have a dark mode feature. Google Chrome, Twitter, and Whatsapp are just a couple of examples of applications that allow users to enable dark mode. Dark mode will be available for desktop and iPhone Facebook users.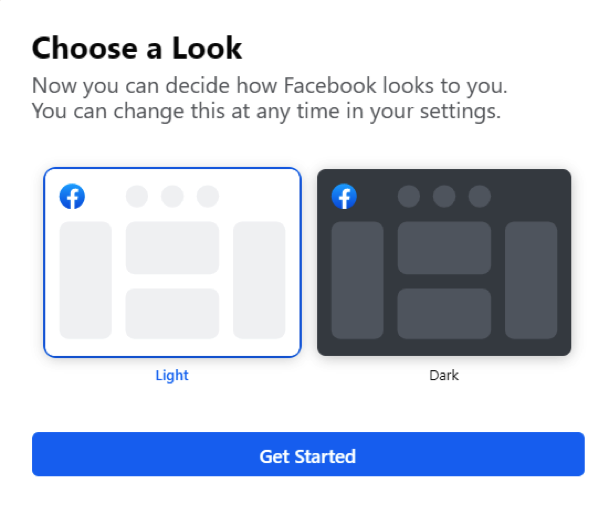 White Design
While Facebook has always had a white design, FB5 will be much more contemporary with a cleaner and brighter look. Here's what CEO Mark Zuckerberg showed at the F8 2019 conference regarding the white design facelift.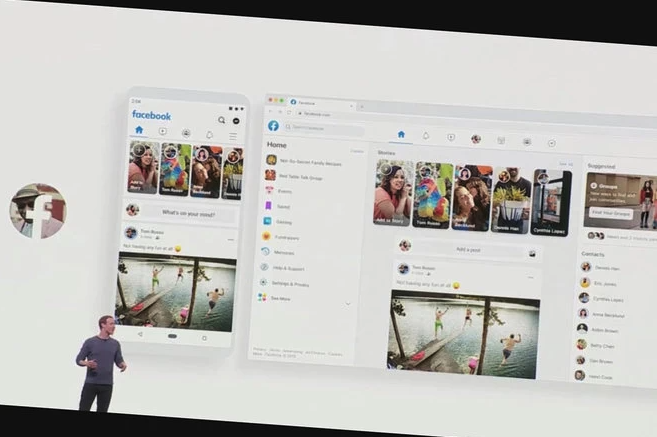 News Feed
With FB5, Facebook is making some significant changes to its News Feed algorithm. This update will place more emphasis on original and quality news content, as more and more people are relying on Facebook as their leading news source. When Facebook asked users what kind of news they want to start seeing in their feed, they said they want "news stories that are credible and informative."
Facebook Groups
When Facebook Groups was launched back in 2010, its primary purpose was to help users socialize around specific topics and communities. With FB5, Facebook wants to make Groups more prioritized and surfaced to users, as well as make it easier to find group's users may be interested in.
How the News Feed Algorithm Update Will Work
Out of all the new features, the algorithm update is considered the most significant change. Like we mentioned earlier, this update focuses primarily on two things – originality and transparent authorship.
This comes about due to the era of "fake news" we live in and the fact that so many people turn towards Facebook for their daily news. Here's what Facebook has to say about how they plan to emphasize original reporting:
"We will now prioritize articles in News Feed that we identify as original reporting on a developing story or topic. We do this by looking at groups of articles on a particular story topic and identifying the ones most often cited as the original source."

Source: Facebook
So, when a specific story is shared multiple times by publishers, Facebook will boost the original one to help it get more distributed on user news feeds.
"This important journalism takes time and expertise, and we want to ensure that it's prioritized on Facebook."

Source: Facebook
As of right now, it's relatively difficult to see how effective this algorithm update will be. However, it's clear that Facebook is trying it's hardest to start boosting more original reporting and reward those outlets and people who put the time, effort, and money into their hard work.
When it comes to transparent authorship, Facebook has stated they are going to start downgrading news content from publishers that do not share transparent information about their reporters and editorial staff. It has been understood that news sources that don't publish information about their team tend to lack significant credibility. For more information about how this News Feed update will work for news publishers, Facebook published a 14-page guide that includes notes and insights that you can find here.
How to Get the New Facebook
Ready to make to switch to the New Facebook? If you don't already see a notification on your Facebook page asking if you want to update, here's how you can update yourself.
Desktop Version
Go to Settings
Select the "Switch to New Facebook" option toward the bottom of the drop-down menu
Mobile Version
Make sure you are on the latest version of Facebook's mobile app
If you aren't a fan of the New Facebook and want to switch back to the classic version on your desktop, simply reverse your steps and disable it. You may also see this notification: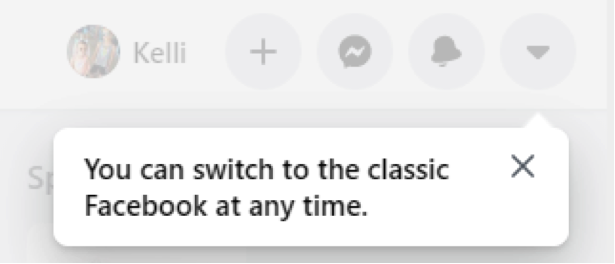 We are excited and anxious to see how these changes to Facebook will impact the future of local and global news, as well as what kind of content we will start to see more of. It's hard to know right now, but there is no doubt that news publishers will have to make some major readjustments to how they operate and promote their stories online to follow these new Facebook guidelines.