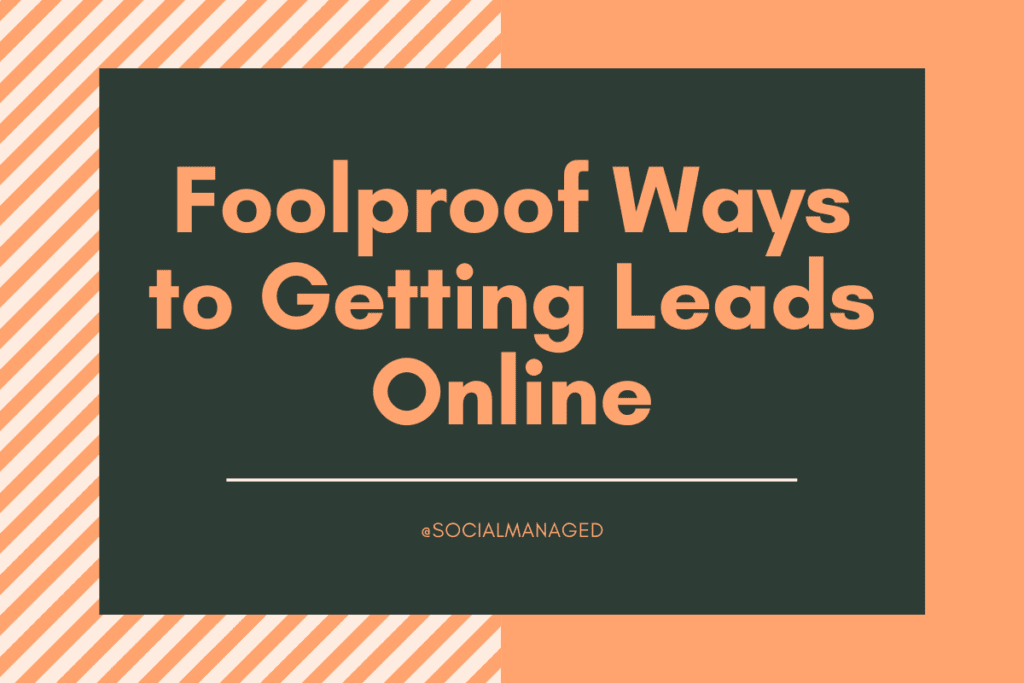 Achieving sales leads online isn't always the easiest thing, but it isn't rocket science either. In fact, there are numerous ways you can generate leads online that are all fairly easy! As a nationally recognized digital marketing agency in Kansas City, we have a few foolproof ways to getting leads online that have worked for us and our clients and are sure to work for you.
Social Media
Many people believe they need to dedicate a considerable budget just to generate sales online, but that doesn't have to be the case. Being active on social media is not only one of the best ways to attain sales leads, but it's free too! As of September 2019, there were 2.5 billion monthly active users on Facebook, and that number is only rising.
Basically, what we're saying is if you're not staying active on social media, you are missing out on hundreds of possible sales leads. According to our Facebook marketing company in Kansas City, posting high-value content on the most popular social media platforms (Facebook, Instagram, LinkedIn, Twitter) consistently and interacting with consumers will help increase your sales tremendously. If you need help creating valuable content, give our digital marketing company in Kansas City a call – (913) 222-9617.
Digital Ads
Running ads across digital platforms like Google and Facebook is another excellent way to achieve brand awareness, rake in visits to your website, and produce sales leads! Display ads and PPC (pay-per-click) ads are compelling tactics to generate leads. Unfortunately, unlike social media, digital ads aren't free. But they don't have to break the bank either. How much you spend depends on things like the popularity of the keyword you want to be found for, how many ad clicks you receive, etc.
Digital ads require a decent amount of strategy and knowledge, so we suggest reaching out to a Google ad company in Kansas City – like Social: Managed. – if you are interested in displaying ads online.
SEO
Given the fact that Google receives 3.5 billion searches a day, it shouldn't come as a surprise that SEO (search engine optimization) is on this list. As a Kansas City SEO company ourselves, we like to help people understand what SEO is by merely saying it is efforts that help your business get to page one on Google.
But how does SEO help generate leads? Well, very few people ever go to the second page of Google. So, by being found on page one, you have a much higher chance of receiving sales leads than those businesses not on page one. Check out our blog on improving your SEO skills by clicking here.
Landing Page
When you create a digital ad, the place a visitor lands on after clicking the ad is known as the landing page. The landing page is often confused with a website's home page, but they are quite different. The sole purpose of a landing page is to present your business in a simple manner and convert the visitor to a lead. A successful landing page will include a convincing call-to-action (CTA), avoid a lot of text, and be visually appealing. Here's an example of Shopify's landing page. As you can see, it is straightforward, doesn't contain a lot of external links, and has a CTA that stands out.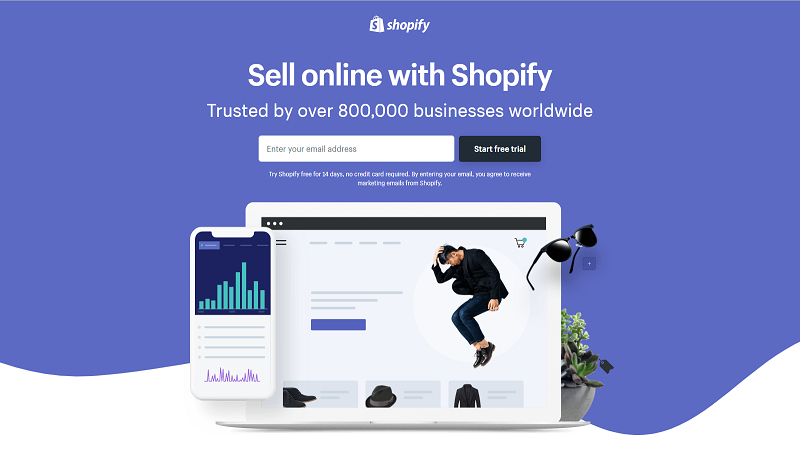 Email Blasts
The last foolproof way to getting leads online is through email blasts. Email marketing is an older, yet still very successful method at obtaining leads. The part of email marketing that many small businesses find difficult is achieving a long email list and then effectively getting those people to click on the email. However, once both are mastered – usually through the help of a digital marketing agency in Kansas City – leads start rolling in.
For help with any of the above methods, contact our digital marketing company in Kansas City today. We are a full-service digital agency specializing in everything from social media, web design, digital ads, SEO, and much more! Give us a call at (913) 222-9617 to start receiving sales leads in just a few days after signing!