It feels like almost every week, there is a new slang word or acronym that people are using on social media. As a digital marketing agency in Kansas City, we spend a lot of time on social media and see these words and terms often. It is essential to not only understand what they mean for our clients, but it is crucial to know when to use them. Our team at Social: Managed. wants you to be as up to date as we are with this terminology. We are known by our community as the best Kansas City SEO company, and we pride ourselves in being knowledgeable. There are a few tips to use the right slang for your audience on your social media posts.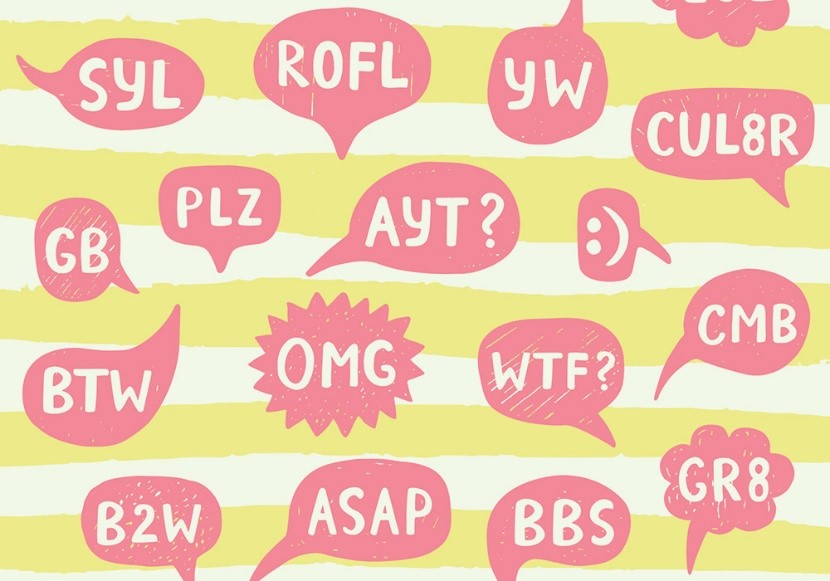 Use The Right Slang
The internet is a funny thing, and things can change in a split second. The audience you are portraying is important to understand, as you do not want to try too hard. If you try too hard, you can become the victim of a mocking event. People can find humor in trying too hard, but not good humor. Your SEO company in Kansas City does not want that to happen. We want people to laugh when they are supposed to laugh, but not laugh at you. Include few memes, understand the current state of humor, and use it to your advantage. Do not try so hard you end up in the laughingstock.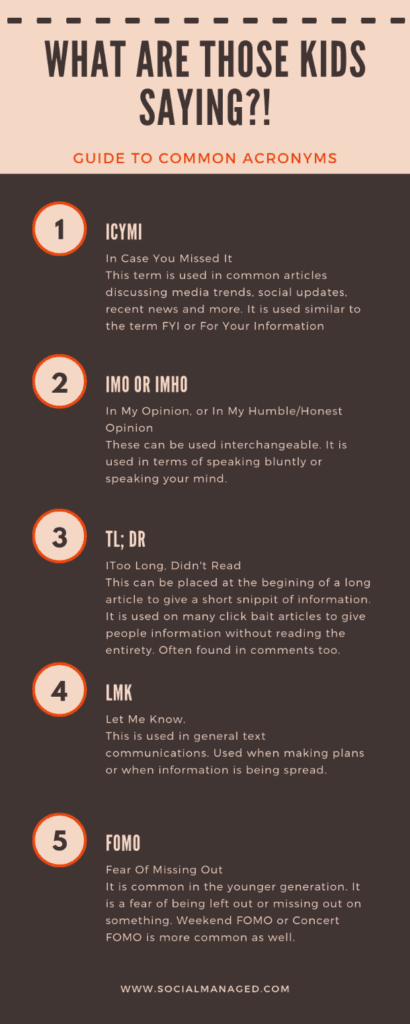 Know Your Audience
This tip can coincide with the first one. Knowing your audience can help you understand when and what slang to use. If you have an audience that is made up of baby boomers, it is not likely they will use the same slang as millennials or even gen z. Each audience, as any Kansas City SEO company knows, has its own set of communication skills, so to be able to connect to them, you must use their language. Similar to a foreign language, if you use unknown slang it does not get translated correctly to the intended audience. Confusion does not bring about new clients; it will just confuse the ones you already have.
Know When To Use What Term
Slang and acronyms can be used in many places, but it is important not to use the wrong slang at the wrong time. This can confuse your audience and make it so that they cannot relate or understand you. If you are using memes, acronyms can often be interchangeable, but in regular posts, it can just be confusing. Using too much slang is not the correct way to market, as many of the best SEO companies in Kansas City know.
Contact Social: Managed.
Slang and acronyms can optimize your social media posts and make your page extremely popular if it is used correctly. If you try too hard, you can become a joke and disregarded by the community. Not trying hard enough does not always reflect well on your audience either. A digital marketing company in Kansas City can help you find a happy balance and median between too much and too little. In order to maximize your social media use the right slang and acronyms, call our team today for assistance. As the best SEO company in Kansas City, we want to assist you in all of your digital marketing needs. Contact us at 913-222-9617 for more information today!
What Makes Social: Managed. The best SEO Companies in Kansas City? Find Out Today!
Ready For A New Website? A   Website company in Kansas City CAN HELP!
Grow Your Business with Our   Digital Marketing Agency in Kansas City Experts Committed To Your Success.