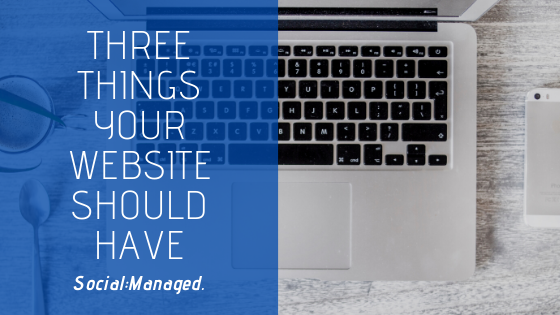 In the era of digital shopping and exploring, potential clients are scanning websites like it is their job. Those who have worked with Kansas City website design know that a website can make or break a sale. (depending on a few things) If you have maintained their attention for fifteen seconds, our advice as the best website company in Kansas City is to optimize the deeper aspects of your website. Once they begin exploring, they are going to be looking for items that could potentially seal the deal for their purchase. Let's explore three things your website should have. 
Blog Page 
SEO companies in Kansas City will harp on having a blog page because it can do many things. To start, it can educate your audience about who you are and what it is you do. This can show them that you are well versed in your field. As well as grow the confidence between them and their purchase. Another task for this page is what we call search engine optimization. As one of the most trusted Kansas City SEO companies we use our knowledge with search engines. We do it to help them read your blog pages. What this does is help them direct you to the right audience. It does this through their searches on Google or other search engines.  
About Us 
This is a much more personal side; however, it is still very important. Any digital marketing agency in Kansas City will tell you that relationships are the most important part of your business. Having an information page can help your potential clients feel as if they know you already, without even scheduling a meeting yet. This builds confidence and can humanize your company in a quick and effective manner. 
Contact Information 
Lastly, and perhaps the most important, your website should have a page on how to contact you. If they cannot easily find a way to get in contact with you, they will likely move on to the next business and forget the confidence they had been building up to this point. Giving a spot for physical location, social media, or email contact is important. It can complete the deal for your potential customer to make a move. Digital marketing companies in Kansas City are encouraging those who do not already have this, to hire website companies in KC to help them attach it. 
Without these three things, your website will not be in the best shape it can. If you are ready to make a few changes to your site, give us a call today. Our team of website specialists are prepared to assist you through this process seamlessly.