Social media is one of the best – if not the best – way to digitally market your brand and connect with consumers. With so many social media platforms available today, you may feel overwhelmed by managing them all and maintaining your reputation simultaneously. According to the experts at our digital marketing company in Kansas City, here are three ways to enhance your social media presence.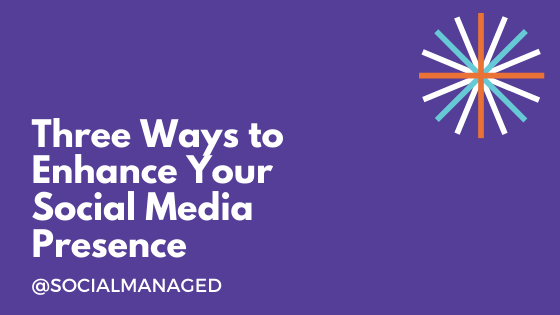 Utilize Social Media Monitoring Tools
Whether you manage one or multiple social media accounts, utilizing social media monitoring tools will be very beneficial. Tools such as SproutSocial and Hootsuite are excellent ways to manage multiple networks and profiles, as well as monitor your businesses reputation, track engagement, and schedule future posts. The best social media marketing companies in Kansas City all use some kind of monitoring tool, so why shouldn't you?
Encourage Conversation With Followers
Nothing shows business authenticity more than genuine responses to customer comments and reviews – even the negative ones. It can be easy for businesses that receive a lot of engagement on their social media to get lost in all of the customer feedback they receive; however, it's important to not ignore them. This is where a social media monitoring tool comes in handy.
A rule our digital marketing agency in Kansas City follows is encouraging conversation with followers at all times. Not only do we try to encourage conversation on our client's posts, but we also make an effort to respond to every comment and customer review our clients receive. This is an easy way to show authenticity, empathy, and for a chance to improve customer experience.
Post Consistently and Authentically
In addition to conversing with followers, posting on your social media consistently and in a genuine manner is key to enhancing your social media presence. You can't expect consumers to engage with your business and view you as credible if you only post on your social media a couple times a year. As a Facebook marketing company in Kansas City, we suggest posting at least 2-3 times a week for optimal engagement.
Side note – do not use social media to strictly promote your brand or sell products. Consumers find businesses that do so annoying. Instead, follow the 80-20 rule. This means 80% of the time you will post educational and entertaining content, while 20% will be promotional content.
If you have a difficult time managing your social media, contact our digital marketing agency in Kansas City. Our team at Social: Managed has the necessary tools and experience to enhance your social media presence and monitor conversations. In addition to social media management, we are also a Kansas City web design company and Google Ad company in Kansas City. For more information, give us a call at (913) 222-9617 today!