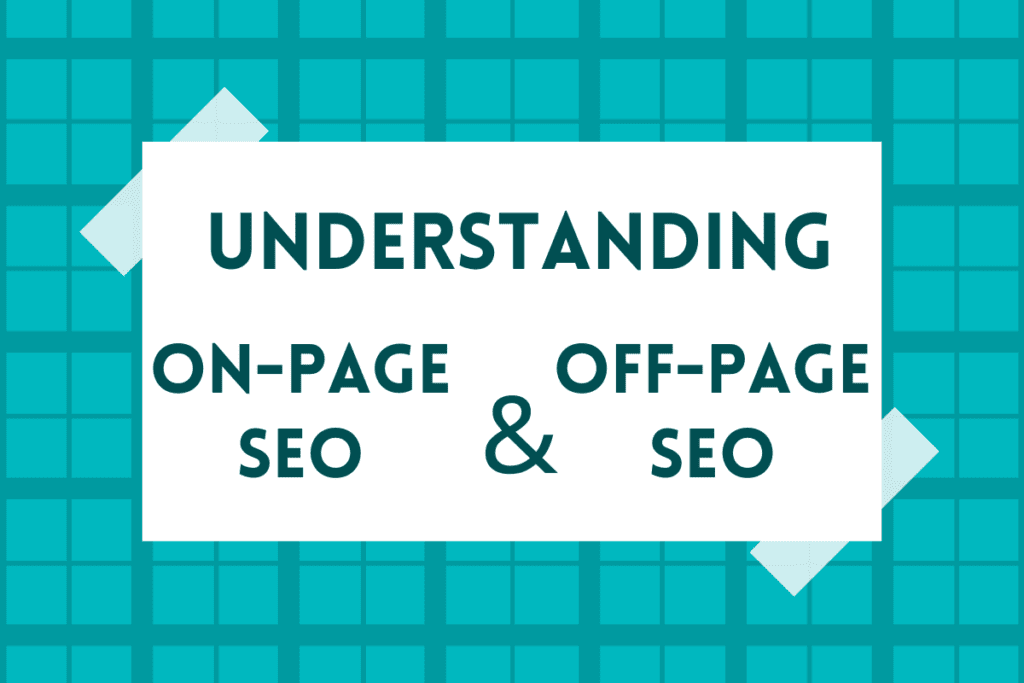 Search engine optimization (SEO) strategy is divided into two categories: on-page SEO and off-page SEO. Basically, they categorize and refer to the different efforts one can take when it comes to search engine rankings. To help you out, our digital marketing agency in Kansas City has put together this article for help understanding on-page and off-page SEO.
On-Page SEO
Put simply, on-page SEO embodies any tactics you take on your website to improve its search engine ranking. With on-page SEO, you essentially have full control. According to our SEO company in Kansas City, the following list includes some of the most common on-page features that should always be optimized.
Keywords
Keywords are the terms people type into search engines to find information and websites related to your industry. Incorporating the keywords you want to be seen for within your website content will help you be found when someone searches for that same word. For help knowing what people are searching for in your industry, our digital marketing company in Kansas City has the tools to help you find the right keywords.
Alt Text
Alt text (alternative text) is the HTML attribute to any image file on your website to help it be found when searched for online. To the average viewer, this text is not visible. However, if an image file fails to load on a webpage, the alt text will appear in place of the image.
Title Tag
Placing your keywords in the title tags on your website is another on-page SEO approach. The title tag is the page title (H1 tag) and should reflect what the page is about.
Internal Linking
Internal linking refers to linking to other pages on your website. Not only is it useful to visitors, but search engines also find it helpful.
Page Performance
Not only is quality content important, but the performance of your website is just as important too. For instance, if your site takes too long to load or isn't adequately built for mobile devices, you can expect your search ranking to drop. Poor page performance is frustrating to both page visitors and search engines.
URL Structure
Organized URL structures help search engines crawl your website much easier and faster, and make navigation more efficient for a visitor. Ensure your URLs contain keywords that reflect the page and are organized for optimal navigation. Consult a website company in Kansas City for help organizing your URL structure.
Off-Page SEO
Where on-page SEO includes optimization tactics used directly on your website, off-page SEO refers to search engine ranking factors that take place off your website. Off-page SEO is just as important as on-page, as it basically tells Google what people think about your website.
Backlinks
Quite possibly the most important off-page SEO factor is backlinks that point back to your website. A backlink is a link on another website that leads back to yours. The more backlinks you have out there on trusted sites, the better, as search engines will assume you have valuable content. Just a few ways to do this include connecting your Facebook page to your website, joining online directory sites, guest blogging, and social media shares.
Social Media
Using social media to boost traffic to your website is another excellent off-page SEO tactic. Sharing social media content on your Google My Business also helps search engine rankings.
Contact Social: Managed.
Unfortunately, you can't choose one or the other when it comes to improving your website's ranking. For clarification, a website with excellent on-page SEO but poor off-page SEO will not rank as well as a website that has both optimized. But don't just take our word for it. Any Kansas City SEO company you talk to will say the same thing.
For help with your business SEO efforts, contact our team at Social: Managed. today. We are a nationally recognized digital marketing agency in Kansas City, specializing in everything from SEO to web design. Give us a call at (913) 222-9617.