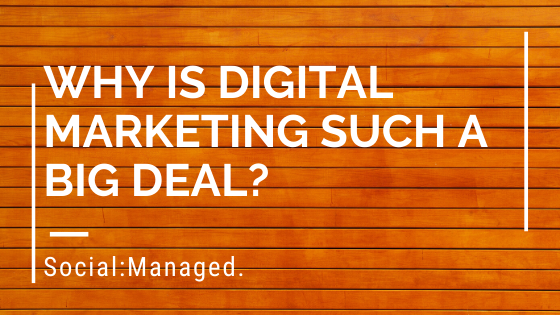 Digital marketing agencies in Kansas City can all come to an agreement that digital marketing is indeed very important. However, do you or your company agree with that? Digital marketing can consist of a variety of things. Social media, Search Engine Optimization, and Ad Management can all be included in this cluster. We have seen nothing but an increase in the affects of digital marketing in our era. We see that trend continuing to increase as time goes on. So why is digital marketing such a big deal? Let's explore what the best website companies in Kansas City say about the topic. 
The best Kansas City SEO company wants you to understand how digital marketing works compared to other avenues. Right now, more people are searching the internet for the items and services they are needing. They are doing their own research and exploring many companies in a matter of minutes. This means that the sales pitch has now began strictly online and is up for the interpretation of the consumer. Digital marketing helps guide that pitch in the way that you want it to. It continues to do so through the web. 
Google AdWord Assistance in Kansas City
If you have been on a game on your phone or on a website and seen a banner ad, you have likely just scrolled by it and thought nothing of it, until you see it a few more times and it becomes stuck to you. Our job as a Google Ad company in Kansas City is make those ads as memorable as possible, and helping you get those clicks that can convert to potential sales. 
Social Media Assistance and Digital Marketing
The best social media marketing companies in Kansas City work hard to make your posts memorable, interactive, and informative on what you do on a daily basis. We remind people the importance of your company and keep it a common name throughout their time on social media. If you have a fun, interactive page, your consumer is going to be excited to see your posts. Therefore making them more effective for you in the long run. 
So, as you can see, online marketing does much more behind the scenes than just making Facebook posts or updating a website. Our job as a digital marketing company in Kansas City goes beyond that and focuses on the goals of your company. If you are ready to up your marketing game, call us today and chat with the best SEO company in Kansas City about how we can help.