Starting a New Website? Here's Why Some of the Best Website Companies in Kansas City Use WIX, Part 1 — Our team at Social: Managed. has earned the title of one of the best website companies in Kansas City. We are proud to design websites that help showcase our clients' businesses or organizations and help them get the traffic needed to be successful.
Every website we create originates from a site where the building process takes place. There are several popular options that your website company in Kansas City can use, such as GoDaddy, Squarespace, WordPress, Weebly, and many more.
Today, we'll be talking about the benefits of a very popular build site that is used by some of the best website companies in Kansas City, and that is WIX. Let's dive deeper into why many of our clients choose WIX for their website needs.
WIX has an abundance of options when it comes to website templates. In fact, there are more than 500 options than can help make a website stand out over the competition. Finding the right template is a crucial step to creating the perfect website. It is important to find a template that you are excited about and can convey your message to your audience.
However, it may be even more important to have others review it before it goes live. Just because your think a site looks good, that may not mean that your targeted audience likes it. A good website company in Kansas City will have multiple people review a template before they decide to go forward with the design.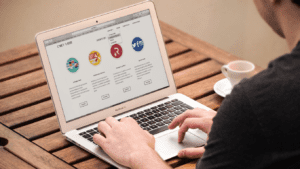 It's always a good thing when you have a product, or in this case a web design site, that is easy to use. One area where WIX really stands out from its competitors is their dashboard. The WIX dashboard is widely considered one of the most user-friendly of all build sites. If designers want to create something new on their site or just want to make minor changes, the dashboard makes it clear and simple for nearly any task.
One thing that can often be neglected by when initially creating a website is the payment tool. Kansas City website design experts can get caught up in making sure their site looks good and functions as it should, but then forget about their customers' payments being secure.
WIX Payments is one option that many web designers prefer, but it is not available everywhere. You may want to utilize a reliable payment source like Stripe, Square, or PayPal to ensure your site can safely accept payments.

Social: Managed.
At Social: Managed., it is our goal to help take your business to new heights. As one of the best SEO companies in Kansas City, we'll help get your website more traffic by increasing its searchability on Google. We are also a leading digital marketing agency in Kansas City, while specializing in many different social media avenues, including Facebook, Instagram, and more.
Contact us to find out how we can help your business thrive!