#1 Best Digital Marketing Agency in Kansas City Asks, "Did Cambridge Steal Your Data?"–Did Cambridge Analytica Steal Your Facebook Data?  If so, why?  While Facebook is quickly approaching 2 billion members, approximately 87 million of them had their Facebook information stolen by Cambridge Analytica, a political research firm. Slowly, Facebook is finally beginning to inform the people whose information has been compromised. Nearly 70 million of those affected are from the United States. Others are from the United Kingdom, the Philippines, and Indonesia.
We are your Kansas City web design company.
As one of the best social media marketing companies in Kansas City, we feel we must stay on top of issues like these and help keep you informed on what is happening, how it is happening, and what you can do. How will you know if you are one of the millions whose information was stolen?
As seen in the picture below, you will have a notification on the top of the page when you log into Facebook. If your information was stolen, your screen would look like the one on the right. If it were not, it would look like the screen on the left. Odds are, your information is safe. However, regardless of whether or not your data was stolen, the digital marketing agency in Kansas City highly recommend changing your passwords and updating your privacy settings.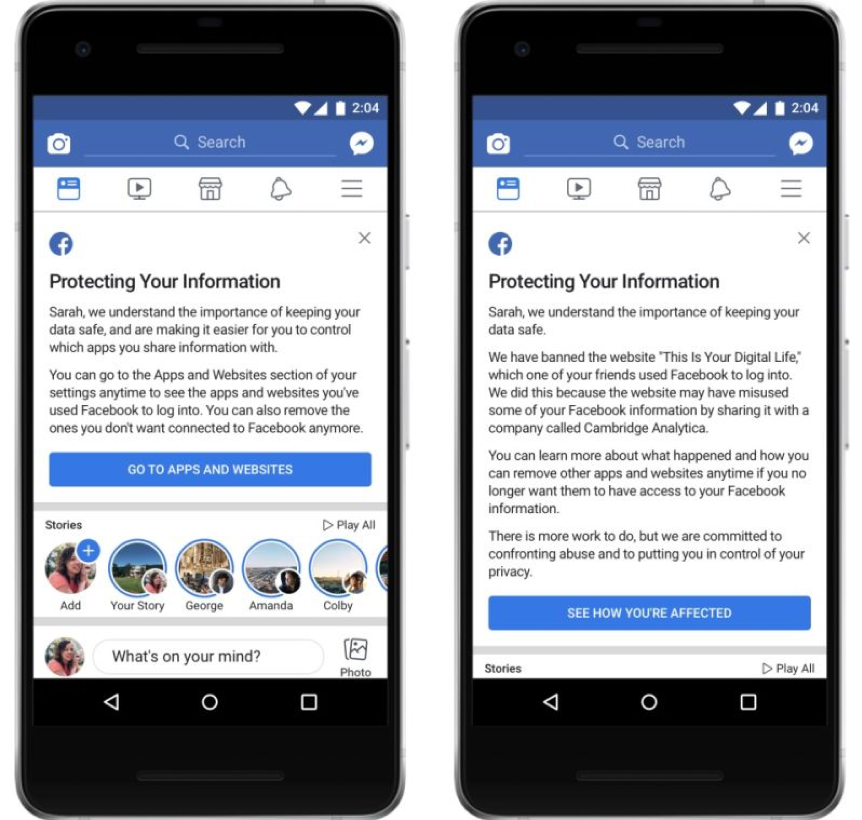 Digital Marketing Agency in Kansas City–If you do not see either notification at the top of your newsfeed, give it a little time. It will take Facebook a few days to get all of the correct announcements rolled out to each user. If you are anxious to determine if your information is safe, you can also log into your account and follow this link: https://www.facebook.com/help/1873665312923476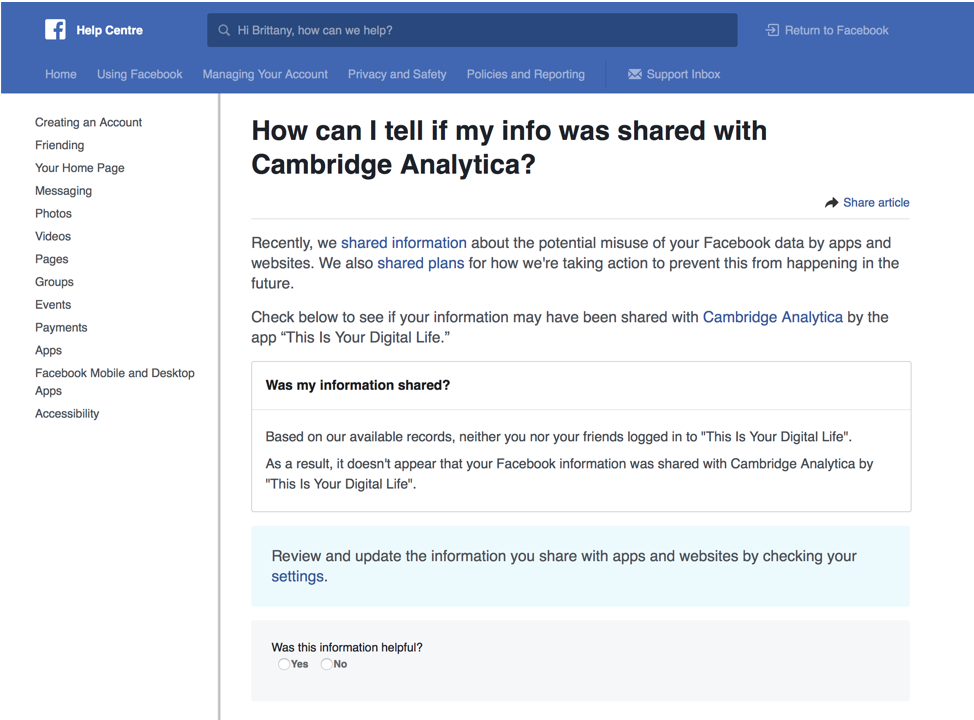 This will show you if your data has been compromised or not.
The box in the center informs you whether or not your data was shared with Cambridge Analytica.
It was discovered that the information was obtained by Cambridge Analytica last month. To complicate things further, just this past weekend, two more companies were removed from Facebook for improper use of personal data. One company was CubeYou, a data analytics company that was using personality quizzes to obtain personal information via Facebook. The other was a Canadian firm called AggregateIQ. The Canadian government has also opened an investigation against Cambridge Analytica.
Need bloggers? Team up with the best Kansas City SEO company!
Throughout the week, Mark Zuckerberg, the CEO, and creator of Facebook, will be testifying to many different congressional committees. The New York Times, among other sources, offered live coverage of his testimony to the House of Representatives. You can find a video feed here if you are interested in watching him speak.
As a top Kansas City web design company and one of the best social media marketing companies in Kansas City, we are extremely fascinated to see how this information will affect Facebook over the coming weeks. In fact, our entire agency is following closely. Many social media platforms and web-based companies, including giants like Google and Apple, use similar data collections that were tapped into by Cambridge Analytica.
Want to run an ad on Facebook, but aren't sure how? We are an experienced Facebook ad company in Kansas City.
As an honest and trustworthy digital marketing agency, we want to make sure that your personal and business information stays safe and protected. We love a good Disney Princess or Walking Dead personality quiz as much as anyone, but as digital consumers, we have to be aware that the information received from these seemingly harmless quizzes can be collected and shared. Staying informed is the best defense against the misuse of your data.
Over the coming weeks and months, more information will undoubtedly surface as to how Facebook will move forward from these revelations. We are committed to keeping you informed. Please feel free to reach out to us at Social: Managed. We will be sure to do our best to help you with any social media questions because we are a digital marketing agency in Kansas City.

At Social: Managed., our goal is to be the best website company in Kansas City by ensuring that each website is built to meet each client's unique needs, now and into the future. Websites are often the first impression a user has with a company. A website that provides a great user experience can help convert customers and drive sales. Let our digital marketing agency in Kansas City help create a beautiful site that boosts your brand and turns traffic into customers. When you work with us, you'll be teaming up with one of the best SEO companies in Kansas City,