A Leading Digital Marketing Agency In Kansas City Offers 3 Great Ways To Improve Your Business's Online Reputation — A leading digital marketing agency in Kansas City understands how important your business's online reputation is for its overall success. So, when your company's online reputation isn't as good as you hoped, it can cause more issues than expected. It's important to improve your Kansas City small business's online reputation as soon as possible, so you don't lose too many customers.
At Social:Managed., we are proud to be a leading digital marketing company in Kansas City and want to help your small business thrive. Your online reputation is almost as important as how many products you sell; that's why we've compiled some tips on how to improve your business's online presence.
1. Identify What's Causing Your Bad Reputation 
According to Kansas City website design experts, the first step in fixing your business's reputation is to figure out what's causing it to rank so low. You can't effectively fix something until you know what's causing the problem. Unfortunately, several things can harm your business's online reputation. The most common factors include the following:
Poor customer service
False advertising
Unsafe products
Offensive marketing campaigns
Data breach that led to leaked customer information
Bad press started by a competitor
One bad review typically won't tarnish your brand's reputation, so it's important to look for a more significant source.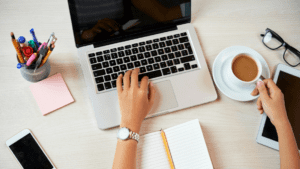 2. Build Trust With Your Customers
The best website companies in Kansas City understand how important building trust with your customers is for having a positive online reputation. People won't buy products from a business that they don't trust; that's why it's important to make sure that your website is secure. Adding trust seals to your checkout process and eliminating pop-up ads are also great ways to make your customer feel more comfortable.
You should also always provide professional and friendly customer service; asking for feedback from your customers is an excellent way to do so.
3. Establish Your Credibility 
According to a leading website company in Kansas City, one of the best ways to improve your business's online presence is to establish yourself as a credible company. It's important to go through the proper channels to make sure your product is safe and to list that information on your website.
A leading Kansas City web design company also suggests trying to network with people in your field. This will not only help you learn more information about the world you work in but can help establish you as a credible business. After befriending someone in the business, offer them a featured blog post in exchange for including your business in one of theirs. That way, you both increase your potential client pool.

Social:Managed. is a trusted digital marketing agency in Kansas City, and we want to help our customers meet their goals. We can evaluate your business's current SEO plan and develop a strategy tailored specifically to your needs. We strive to ensure our clients receive their desired results.
If you are interested in hiring an SEO company for your business, contact us online, or give us a call at (866) 324-9700 to discuss a free social life audit.