5 Things to Consider, According to a Top SEO Company in Kansas City, Before Creating a Great SEO Strategy, Part 2 – In part one of our blog series, we covered two of the most important steps you should take before planning your SEO strategy with our SEO company in Kansas City. We discussed the value of taking an in-depth look at your website and then meeting with your Kansas City SEO company to discuss your business's goals.
Today's blog will uncover three more items that should be addressed before creating your business's SEO strategy. By following the five steps in our blog series, your business will have a solid foundation that can lead to success.
When you are choosing the keywords you want to target, make sure they are words that will drive traffic to your website. There are multiple tools available that can help you identify what keywords your competition is going after. Some of the best keyword tools include Google Keyword Planner, KWFinder, SEMrush, and many others.
You and your Kansas City SEO company should focus heavily on long-tail keywords so you can target clients in a particular area. For example, if you are selling socks, you don't want your keywords to be something super simple like "Sock Sales." Instead, you should be specific about the types of socks you sell and your location. An excellent example of a long-tail keyword would be, "Kids Sock Sales in Kansas City." Once you have a solid set of keywords, you can focus on creating website content.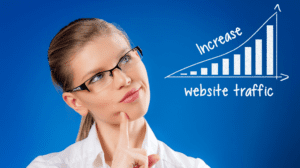 Have you ever searched for an item or a service using Google and you found a very outdated website? Did it leave a bad taste in your mouth regarding that company? The first impression that people have of your website can often be a lasting one. Knowing this, it's very important to keep your website's content up to date.
When a business is regularly putting out fresh content, it gives readers the impression that they care deeply about their customers. As a leading Kansas City SEO company, we know that fresh content creates a more enjoyable experience for the audience. Our experts specialize in creating unique content that engages readers and helps boost your company's rankings and Google search results.
#5 Meet With Your SEO Company in Kansas City and Determine Your Target Audience
If your company sells men's grooming products, it does you no good to get traffic from a teenage girl. Or if you're selling women's handbags, you really don't need to target adult men. Make sure your content is created with a specific audience in mind, and then go after that demographic.
When you meet with your SEO company in Kansas City, try to find the right markets to target for your product or service. Professional advice from one of the top SEO companies in Kansas City can help you pinpoint the people who are most likely to make a purchase from your business while browsing online.

At Social: Managed., it is our goal to help take your business to new heights. As one of the best SEO companies in Kansas City, we'll help get your website more traffic by increasing its searchability on Google. We are also a leading digital marketing agency in Kansas City that specializes in various social media avenues, including Facebook, Instagram, and more.
Contact us to find out how we can help your business thrive!
Social: Managed.