For more than a decade, UpCity's mission has been—and continues to be—to help businesses find B2B service providers they can trust. The UpCity Recommendability Rating was developed to determine a service provider's credibility and recommendability, giving UpCity the confidence to recommend them to the more than 1.5 million businesses that visit their site.

Each year, UpCity analyzes and scores more than 70,000 service providers based on their UpCity Recommendability Rating and acknowledges the top national and local providers with an UpCity Excellence Award. The results are in, and we won!

We are ecstatic to announce that the Social Managed team has been recognized as one of the top B2B service providers of 2021 in both the Kansas City, MO area and nationally by UpCity!

The opportunity to share our energetic culture and commitment to custom ideation for each client is what excites us each day. Our detail-oriented thinking coupled with big-picture ideas provides each client with a well-rounded experience in the world of social media and marketing. Creating lasting, positive impacts online for our clients is the ultimate reward.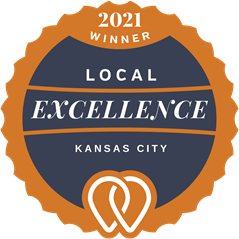 – "The Social Managed team creates an experience that can make any client certain that their thoughts and ideas are being valued and heard. The passion, expertise, and transparency brought by the team are incredibly refreshing. We're so happy for Social Managed to win this award and hope to see the great work continue."

– Dan Olson, CEO


Dan Olson, CEO at UpCity, had this to say about Social Managed:
This recognition has been driven in large part by our 5-star review rating on UpCity. Here are a few of our favorite pieces of feedback we've received from our incredible customers:

"Great experience I would recommend them to any business."
-Kyle DeRodes, Social Managed Customer

"David and Kelli did a great job taking our ideas and crafting them into two nice, informative, and easy to navigate websites."
-Jerry Dixon, Social Managed Customer

"They are proactive and able to support me when I need it most."
-Michiyo Dougherty, Social Managed Customer

Receiving this award from UpCity is not only exciting but humbling. We come to work every day, putting in the effort on behalf of our clients because the passion for what we do is authentic. Being noticed by UpCity and clients is truly gratifying. Thank you, all!