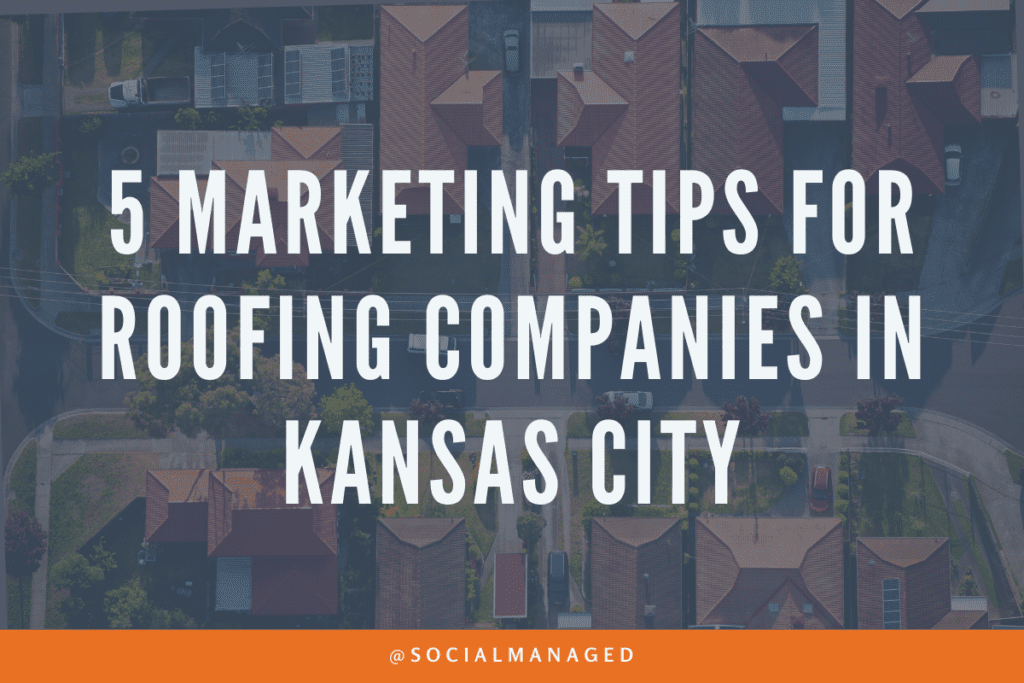 The secret to marketing roofing companies no longer lies in placing an ad in Yellow Pages or putting up a billboard off the side of the highway. With thousands of roofing companies in the Kansas City area, roofing company owners need to rely heavily on digital marketing to find business. Here at Social: Managed., where we do a lot of work with roofing contractors, we have 5 marketing tips for roofing companies in Kansas City to share.
Local SEO
As a roofing contractor, local SEO should be your best friend. The competition is high in the roofing industry, which means you need to work with one of the best SEO companies in Kansas City to get your website on page one of Google.
Working with SEO companies for local SEO will ensure homeowners in your service area are finding you online easily. For example, as a Kansas City roofing company, you obviously don't want to show up on Google for someone in Boise, Idaho, right? SEO companies will find relevant local keywords to incorporate on your website to bring you the right customers.
Be Social
Social media has become a new way for consumers to communicate and interact with businesses. Basically, if you want to stay ahead of the competition, you need to be on social media.
What kinds of things should you post on social media as a roofing company? Well, there are lots of things! Here are some post ideas to help you get started:
Showcase before and after photos of roofing projects 
Highlight positive customer reviews 
Share roofing tips and tricks and other relevant news 
Post behind-the-scenes pics and videos of your crew when working on a roof 
Show your involvement in the community 
Have a Beautiful and Optimized Website
In addition to investing in local SEO, make sure you have a beautiful website to go with it. SEO will do you little good if you don't have a user-friendly website. Even if your website is on page one, there's no guarantee a visitor will stay on it if it isn't functional. Having a professionally designed website from a digital marketing company in Kansas City will increase your chance of receiving quality leads. Also, optimizing your website will dramatically help your SEO. Things your website should have:
Easy navigation 
Contact page 
Lead generation tool 
Roof work portfolio  
A section with reviews and ratings 
FAQ section 
Fast load times 
Have a Work Portfolio
Roofing contractors have been known to scam homeowners for years. Be sure your website has a portfolio or gallery of past work. A work portfolio shows potential customers that you are the real deal and will deliver quality work. Photos are a great way to build trust with homeowners and showcase your roofing abilities.
Tip – Invest in a nice camera to take high-quality photos and always make sure to take before and after photos from multiple angles on the property.
Be Active in the Community
Being active in your community is an excellent way to not only get your name out there but also show homeowners that your business cares. Now, by being active in the community, we don't mean soliciting, being a "storm chaser," or planting signs on every corner. Instead, we mean contributing to charities and fundraisers, host giveaways, and showing up to local events.
Need Help With Your Roofing Company Marketing?
We get it – the roofing industry isn't the easiest one to market. However, our experts have found a way to master it. We have helped many roofing companies in Kansas City achieve more leads and earn quality reputations between website redesigns to social media and PPC ads. Give Social: Managed. a call at 866-324-9700 to see how our digital marketing company can help you!