4 Ways an SEO Company in Kansas City Helps Establish Business Credibility with Your Website—Having an online presence is essential for any business, regardless of its size and industry. But beyond just having an online presence, businesses need to use their website to show they are a reliable source of information.

The best way your small business can show that it is trustworthy and credible is by having a visually appealing website with client reviews, a blog page, and accreditations or awards displayed on the site. At Social: Managed, we are an SEO Company in Kansas City and website design specialist that can help make sure your business establishes credibility through your website. Read on to learn four easy ways to establish credibility on your website!

Visually Appealing Site
When someone visits your website, you have less than a second to make an impression – so making sure it looks professional is key! Google found that people judge a website within 1/50th to 1/20th of a second after seeing it, which means having a well-designed website should be a top priority. If you don't know where to start when designing your site or don't have time for design work – don't worry! You can always hire a Kansas City web design company like Social: Managed which specializes in creating attractive websites that will leave consumers impressed.

Client Testimonials/Reviews
Testimonials and reviews are some of the most powerful tools you own when trying to build credibility with an SEO Company in Kansas City. According to Bright Local's research, people trust online reviews almost as much as personal recommendations from others – establishing their importance in the buying process. Posting testimonials from satisfied clients of yours on your website not only makes visitors feel more confident but also helps prove that you are legitimate without saying something yourself! And if you're unsure of how or where to post these testimonials – our Kansas City web design company at Social: Managed can help!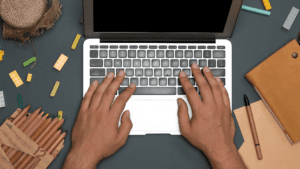 Blog Page
A blog page isn't just helpful for SEO purposes – it helps set up authority as well! With blogging, you get the opportunity to discuss topics relevant to your industry while sharing tips and tricks with customers; all while presenting yourself as an expert in the field. Not only will this serve as great content for users visiting your site – but it'll also increase the chances of improving your search engine ranking too! To give yourself the best chance at success with blogging for SEO, talk with our team about what we offer here at Social: Managed for an SEO Company in Kansas City.

Post Accreditations and Awards
Another great way of showing visitors that you are a qualified SEO Company in Kansas City within an industry are displaying any credentials or awards associated with third-party organizations on your site – such logos or seals will boost visitor confidence in knowing who they are getting services from is certified or accredited among such institutions. Make sure all areas of accreditation featured link back directly to either their sites or social profiles; otherwise, trust won't be established quite as easily.
Conclusion
Having a credible business presence online starts with having an aesthetically pleasing website – no one wants slow loading times or cluttered pages cluttering up their digital space! After making sure this requirement is met; featuring client testimonials and reviews – along with maintaining regular updates on blog posts plus display accreditations & awards – you'll be well on your way towards establishing trustworthiness among potential customers visiting your site. Fortunately, Social: Managed offers assistance in each one of these categories; having been known as one of Kansas City's premier digital marketing agency in Kansas City offering solutions ranging from web design, SEO services & more – contact us today if interested in increasing credibility through boosting visitor engagement & retention rates on both desktop & mobile devices alike!
The data demonstrate that search engine optimization works. The best SEO company in Kansas City WORKS! When people get online, they do an immediate search for a product, business, or service. If you're not on the first page, those clients will choose one of your competitors. By failing to optimize your website and engage in SEO, you will lose a substantial number of sales and brand recognition.
 our process is to design and manage an email campaign that can engage and inspire your customers. Our creative team has years of experience with Kansas City web design, measuring, and executing the best Facebook ad company in Kansas City. We aim to increase interactions between your business and your followers. We are your Kansas City SEO company.
 
Our objective is to create a unified marketing experience across all of our clients' digital assets. We intend to be Kansas City's premier digital marketing agency. We will do this by communicating effectively, executing flawlessly, and becoming our clients' SEO Company in Kansas City.