There are several things you can spend your digital marketing budget on. However, the best thing you can spend that budget on is search engine optimization (SEO). And we're not just saying that because we're an SEO company. Seriously, ask anyone in digital marketing! This article will discuss 8 reasons why your company needs SEO and why you should've started it yesterday.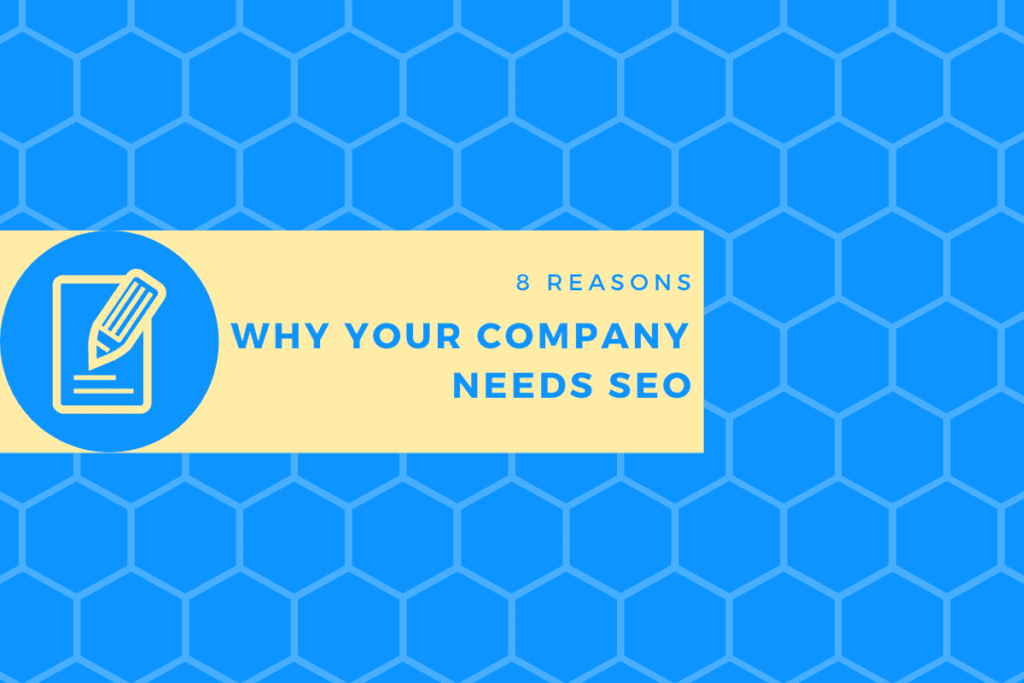 #1 SEO Makes Your Company Visible on Google
The first (and most obvious) reason why your company needs SEO is that it's what helps make your website visible on search engines, like Google. Without SEO, your website basically doesn't exist in Google's eyes. By optimizing your website, you are increasing the chance that your website will show up on page one of Google. There are billions of people online conducting Google searches every day. Make sure you are visible!
#2 SEO Increases Sales
SEO helps you earn money? You heard that right. Investing in a good SEO strategy can help you achieve the sales leads and conversions you've been searching for. As an SEO company in Kansas City, we have helped hundreds of small businesses generate thousands of dollars in a short amount of time, all because of SEO.
#3 SEO Doesn't Require Paid Advertising
Fun fact – SEO is not the same as paid advertising. This is where we often find customers get confused. Paid advertising, or search, is when you pay a certain dollar amount to have your website show up at the top of a search page. Unfortunately, paid search can get fairly expensive.  
SEO, on the other hand, is more of an organic technique, which means you likely won't spend a dime – unless you pay an SEO company to help you out. Hint: which you should.
#4 Improves User Experience
User experience on a website is crucial, and SEO can help with it. Google finds it very important to provide users with relevant content. This means if your website isn't navigable, you can likely kiss your spot on page one goodbye. This is why SEO is good to invest your time in, as it can make it easier for users to find information on your site.
Check out our blog on 5 elements of a good website to improve your website's user experience! 
#5 SEO Helps Attract Local Customers
SEO is neat in that you can attract local customers through it. This is what's known as Local SEO. In fact, local searches are becoming so popular that "near me" searches have increased over 500% in the past few years! So, local SEO should be your number one priority if you are a small to medium-sized business. 
#6 SEO Increases Brand Awareness
SEO can help increase brand awareness by placing your website on the first page of Google. Think about it – how often do you go to the second page of a search result? We can likely assume hardly ever. Because very few people go past the first page of Google, your business will receive much more awareness by being on page one than on page two.
#7 Easily Measure Success
SEO is a measurable marketing technique. With the help of online tools (or one of the best SEO companies), you can:
Easily measure your conversions
Find out how well your website is ranking
Look at traffic growth
See which keywords are ranking the best
#8 SEO Brings The Right Customers
If you are a dog food company, it does your business no good to show up for a Google search on washers and dryers, right? This is why SEO is such a beneficial marketing strategy to invest in. It helps avoid your website showing up for irrelevant searches to your business and instead bring the right customers to your site.
Get Help From An SEO Company
Did you know the first five results on a Google search account for 67.60% of all clicks? Yep, you heard that right. Make sure your website is one of the first five results with the help of an SEO company, like Social: Managed.! Ranked one of the best SEO companies in Kansas City, we know how to work Google's ever-changing algorithm to get your business ranking towards the top. Contact us to discuss a strategy today!