It may only be October, but the holiday season is right around the corner. Holidays are going to look a bit different this year due to COVID-19, which means you need to change your marketing tactics to reflect this new way of living. What do we mean by this? Continue reading for the ultimate holiday marketing checklist for 2020 according to our digital marketing company in Kansas City.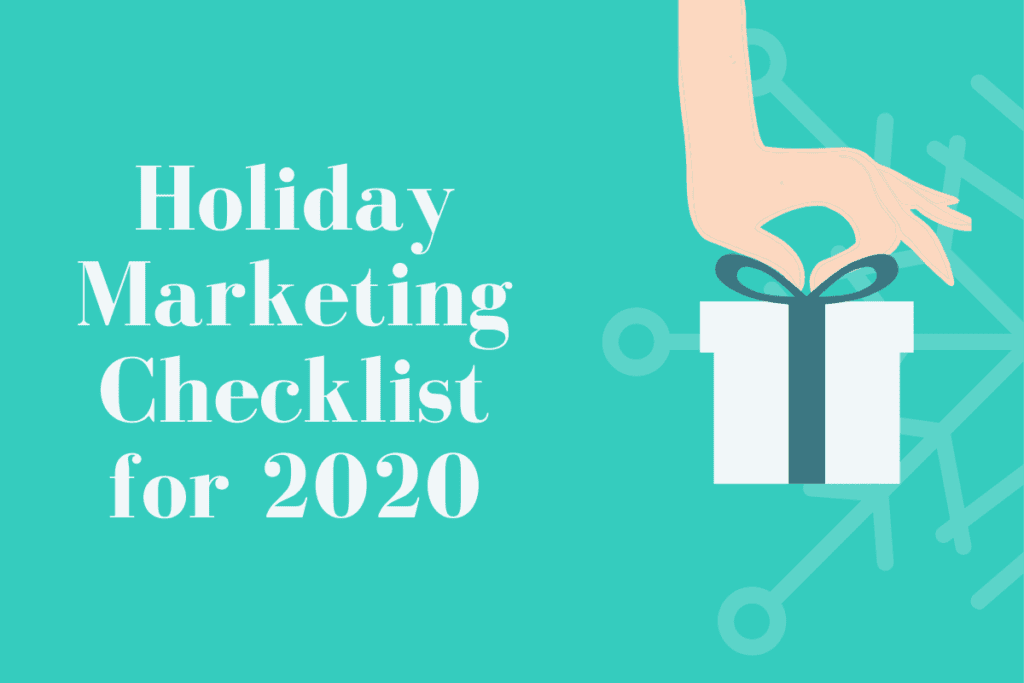 Holiday Marketing Checklist for 2020
While last year you may have used your holiday marketing budget on large in-store signs, you will need to reconsider what you are going to spend your marketing budget on this year. We can likely expect an increase in online shopping. This means you need to invest more in marketing with the help of a digital marketing company.
PPC Ads
Not on page one of Google? PPC ads can help. If you're in a competitive industry, you may have difficulty getting your website to show up on the first page of a Google search result page. This is where PPC ads come in handy. Pay-per-click (PPC) is when you pay a search engine a specific dollar amount for every click on your ad that you receive. While PPC does cost you money, it is a quick solution to getting in front of consumers for relevant searches. 
Ensure you're working with a digital marketing company to help you run and create successful PPC ads. It can be tricky to understand if you don't have any digital ad experience and ultimately lead you to waste precious money.
Social Media Ads
People are suckers for good social media ads. Think about it – how many times have you been scrolling on social media, found an attractive ad, and clicked on it? We can likely assume a lot. Social media ads are one of the best things you can spend your digital marketing budget on as they easily pull people in (especially if it mentions a good deal). If you plan on running a special or deal this holiday season, we highly suggest looking into getting started on social media ads.
Update Local Listings
Any business with a physical office location should have a Google My Business page. A Google My Business listing provides consumers with information about your business, such as hours, location, website, and phone number. Be sure to update your Google My Business listing to reflect accurate holiday hours and information.  
If you are unsure how to do so, you can check out the Google My Business FAQ page here.
Assess Your Website
Nearly 75% of consumers in the United States said they plan on shopping online for the holidays this year more than they have in previous years. Because more people will be online shopping than in-store shopping, it is crucial that your website has the latest updates and is optimized for user experience.     
Do a quick audit of your website and ask the following questions:
Does my website have the latest version? 
Does my website state what we are doing to keep our customers and employees safe during the pandemic? 
Is my company information correct on my website (phone number, address, email, hours, etc.)? 
Is my website easily navigable? 
Does my website contain an accurate representation of my inventory, or is it outdated? 
Get Social
Social media should be your best friend this holiday season. As we said, people will be spending a lot of time online this year, including being on social media. Make sure your business is on the right social media platforms, keeping your followers in the loop, sharing new products and any special holiday deals that consumers may enjoy.
Tip – having an active social media page is essential when you plan on running social media ads!
Local SEO
During this pandemic, many people have been making a bigger effort to support local businesses and plan to shop locally this holiday season. If you want to be found for local searches, it's important that you hop on the SEO train right away. Optimizing your website for local SEO will help your website show up on page one for searches in your area.
As one of the best SEO companies in Kansas City, we have seen how easily small businesses fall through the cracks when they cancel their SEO efforts. Be sure to capitalize on local SEO this holiday season!
Develop Your Holiday Marketing Strategy With Social: Managed.
Now that you know what your holiday marketing checklist should include, are you ready to start checking off some boxes? If you need marketing help fast, give our digital marketing company a call today. We know how stressful the holidays can be for small businesses, which is why we are more than happy to help you develop a holiday marketing strategy. As the best SEO company, Social: Managed. offers a variety of digital marketing services. Call (866) 324-9700 to get started!