It's no secret that search engine optimization (SEO) is a critical piece in any business strategy. SEO helps businesses boost sales, rank better on search engines, increase website traffic, and achieve business goals. Unfortunately, excelling in SEO isn't an easy one. It requires time, strategy, expertise, and patience. This is why many companies and organizations hire either an SEO company or freelancer for help. However, there are a few reasons why you should hire an SEO company over a freelancer. As an SEO company in Kansas City, we are going to discuss some reasons why investing in a team of experts is better than a single person.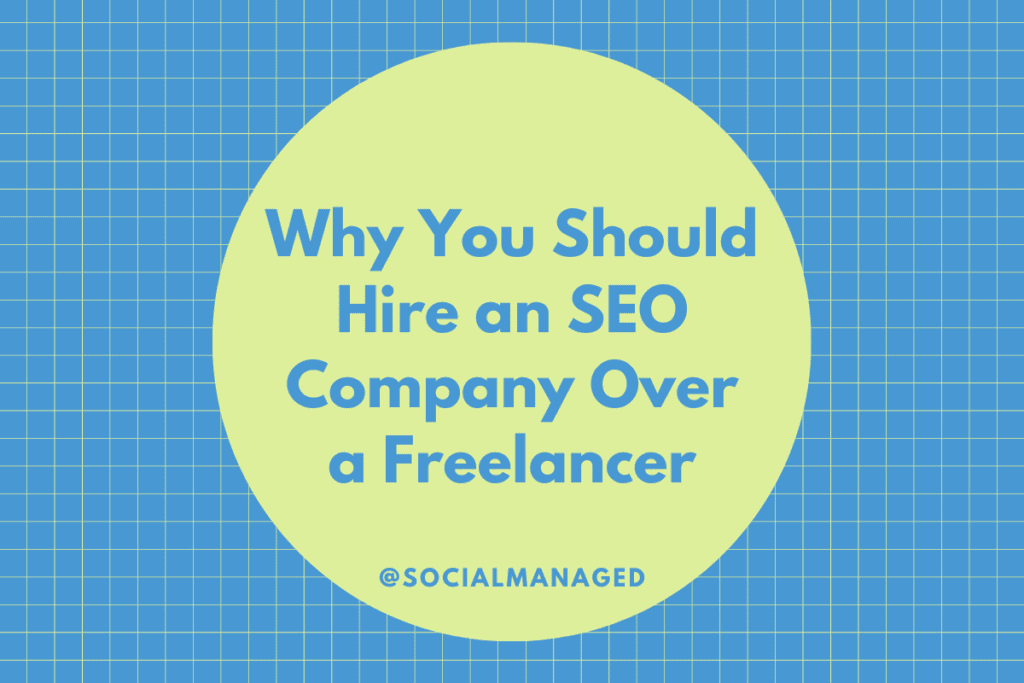 Why You Should Hire an SEO Company
When you hire an SEO company, you are hiring a team of SEO experts that work together to help businesses succeed. There are typically two types of agencies that offer SEO. The first is a boutique agency that offers strictly SEO services with maybe a couple of other marketing services. The other option is a full-service digital marketing agency that offers everything from custom website design to SEO. A full-service agency is the best option, as they can take care of your other marketing aspects in conjunction with SEO. 
The following are just a few benefits of hiring a full-service agency that offers SEO services:
Cost-Effective
Hiring an SEO company is very cost-effective. With more people dedicated to working for your business, you will ultimately spend less money in the long run because the labor time will be lower.
Experience and Professionalism
Marketing agencies hire only the best of the best. This means when you decide to work with an agency for your SEO, you can feel confident knowing you will have professionals working on your account.
Access To Other Digital Marketing Services
Good SEO goes hand-in-hand with a good website. If your website isn't crawlable, then your SEO efforts will go to waste – no matter who does your SEO. By hiring a full-service agency, they can help you redesign your website and update it so that Google can crawl it easily. If your social media is struggling or you are interested in digital ads, a digital marketing agency can help with that too.
Diverse Expertise
When you work with an SEO company, you will have a dedicated team of experts that are experienced in various aspects of SEO. For example, you will have someone that is excellent at link building and another person who is better at the more technical stuff. The more people you have working on your SEO, the better your SEO will be.  
Why You Shouldn't Hire a Freelancer
When you compare the benefits of working with an SEO company to hiring a freelancer, working with an SEO company wins by a landslide. Now, some may argue that a freelancer tends to be cheaper, and you get one dedicated person to your account. While this may be true, there tends to be more cons to working with a freelancer than an agency. 
SEO involves a wide range of aspects. Typically, freelance SEO experts will only focus on one or two skills related to SEO. If you want to achieve the full benefit of SEO, then you would have to hire multiple freelancers. Apart from this, it can be hard to find a trustworthy freelancer. Just because someone claims to be an SEO expert does not mean they are. Lastly, freelancers are individuals working for themselves and their clients. This means you will be competing with the freelancer's other clients for time and attention, which can be difficult if they have a lot on their plate.
Conclusion
Hiring an SEO company is much more beneficial because you get a team of SEO experts to work on your account rather than one person. An agency has the time, experience, tools, and training necessary when doing SEO – an industry that is always adapting.
To reach your SEO goals, contact Social: Managed. We are a nationally recognized digital marketing agency in Kansas City with a second branch in Pensacola. Call 866-324-9700 today to see how our SEO experts can help you.